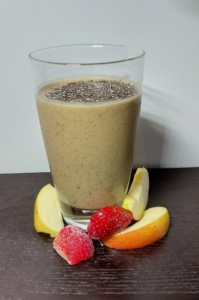 Good Food Box Easy Green Smoothie!
Are you unsure what to do with some of the supplies in your Good Food Box? Or are you just wanting to try something new? Try this recipe for a delicious and healthy breakfast!
½ cup of chopped Spinach or Swiss Chard
1 medium Banana
½ chopped Apple
3 ice cubes
¼ cup of water or milk or juice
It's that simple! This smoothie is packed full of
Vitamin K, C, and A, as well as potassium, iron,
and fibre, which makes it a great way to start your
day!
Here's a step by step guide on how to make this
smoothie:
1. Wash all fruits and veggies in cool water
2. Cut or tear the spinach and swiss chard into
pieces no bigger than your thumb
3. Cut the banana into small chunks
4. Cut the apple into several slices, make sure
you remove the core and seeds
5. Put all the ingredients into a blender and
blend until smooth
6. Enjoy!
If you want something even more nutrient dense,
choose one (or more) of these add-ins:
2 tbsp nut butter (ex. peanut butter, almond butter, etc.)
1 handful of blueberries
1 tbsp of flax or chia seeds
2 tbsp of yogurt
½ tsp of lemon juice
1 scoop of your favourite protein powder